Every time you blink, something changes in the world of business and branding. It's especially true of this moment in history:
as a society in flux breaks from the norms of the past, brands are stepping in to comfort, heal, and make a statement on how they'll fit into the future that lies ahead
. Spy10 is here to capture all the moments you missed, and explore the ones that might mean something big to your brand.. because right now, you could be the next innovator the world needs.
1)
Dining without contact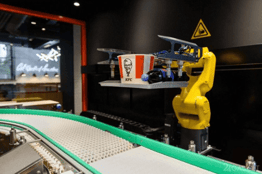 Dining establishments are rapidly adapting to behavioral changes in response to COVID-19.
KFC has opened a "restaurant of the future" in Russia that aims to minimize contact between employees and consumers. Robotic arms will carry out tasks that employees once did, serving buckets of food to pick-up points where consumers can collect them with a specific pin code.
Coca-Cola is introducing contactless technology to freestyle beverage machines in over 10,000 different locations in the coming months. Customers will be able to operate the machine using a QR code. Coca-Cola says all machines will include the technology before the end of 2020.
Taco Bell has developed a new service called "Taco Bell Go Mobile" which allows diners to order prior to their visit through the new app. The "Go Mobile" locations will include a traditional drive-thru as well as a priority lane that will serve customers who have purchased food through the app.
As people start to slowly emerge from their homes, the service industry must respond creatively to provide an environment that's safe for all.

SOURCES:
2) Coming together while staying apart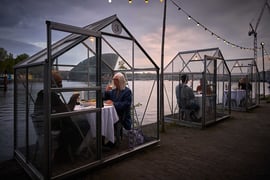 From event production teams to fitness companies, brands are developing creative ways to provide enjoyable experiences with limited physical contact.
The entertainment scene has evolved from closely packed venues to socially distanced and drive-in concerts. Metallica will perform drive-in concerts across the US beginning on August 29th, coordinated by leading integrated event production group Encore Live.
The UK has also hosted its first socially distanced concert: cars were parked two meters apart before guests were guided to their own platformed private viewing areas. All food and beverages could be ordered beforehand or through an app.
Zero touch spaces have also been used to give people a taste of normality while keeping safe. In Redondo Beach, California the Inspire South Bay Club has created individual pods for users to exercise safely in a team setting. This "dome" trend has also been spotted in the UK dining scene this summer.
Brands that specialize in social experiences will need to think outside the box to create a sense of normality.


SOURCES:
UK's first socially distanced concert shows what the future of live music might look like

3) Stores that fit in the palm of your hands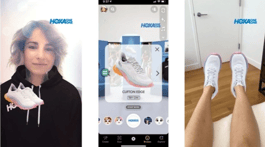 Hoka One One is offering a mobile shopping experience through Snapchat to bring the changing room to the consumer's home. An augmented reality pop-up store includes a virtual "try on" feature, which transposes a digital image of sneakers onto the shopper's feet. Users can then purchase the products directly from the app.

PetSmart is playfully employing AR via Snapchat with a quiz that transforms the user's face into a reptile based on answers. The feature includes an offer for 40% off a pet reptile with the purchase of a starter kit.

The beauty industry is also embracing the AR experience, even as stores begin to re-open. MAC cosmetics has introduced an AR tool on its e-commerce site for lip and eye products for c

ountries including the UK, Australia, Germany.



Creating an interactive consumer experience for digital devices allows brands to maintain their connection with their target market while keeping everyone safe.




SOURCES:

Hoka One One opens virtual pop-up shop with Snapchat AR

PetSmart gamifies reptile adoption with Snapchat AR quiz

With stores closed, MAC Cosmetics expands AR try-on for e-commerce



4)

Making sustainability an everyday practice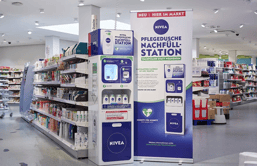 From fast food to beauty, brands across sectors are innovating ways to reduce waste.
PriestmanGoode has developed fast food packaging design to help restaurant chains meet sustainability goals. In lieu of single-use plastic, consumers will pay a small fee for reusable packaging and will be reimbursed on their next order when containers are returned to the restaurant.
Coca-Cola European Partners are stepping up by launching the new paperboard "CanCollar" in Spain to reduce the use of plastic rings. This innovation will prevent more than 18 tons of plastic from entering landfills every year.
NIVEA has also taken steps to reduce its usage of plastic packaging by introducing its first shower gel refill station.

More than two-thirds of American consumers consider how sustainable a brand is when making a purchase. Sustainable consumption will shape consumer behavior and choice and brands that don't participate in the circular economy will be left behind.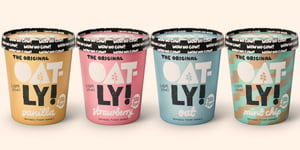 FMCG Gurus found that 60% of consumers have recently increased their snacking intake, especially confectionary snacks. Consumers also stated that they planned to eat healthier due to COVID, driving demand for snacks with low sugar and fat content.
Coca-Cola dairy brand Fairlife partnered with Boardwalk Frozen Treats for the release of a lactose-free Fairlife Light Ice Cream. The new product comes in seven flavors, each with eight to nine grams of protein and 40% less sugar than other ice creams.
Vegan Oatly Ice-Cream has also launched an oat-based ice cream across the US, with flavors including traditional chocolate, vanilla, and strawberry as well as others.
CPG brands can explore the intersection of health-conscious and comfort foods to excel within the market.