here's a challenge that many brand marketers know all too well: successful marketing isn't just proving your product's value. it's making the right impression on your audience and strengthening that positive feeling through every interaction.
in fact, 57% of consumers will increase their spending with a brand if they feel connected to it, and 76% will choose a brand they feel connected to over its competitors.
if you're a brand marketer, you're not just selling. you're architecting experiences and building relationships. and your success hinges on this key question: how can you ensure your brand resonates with your key audience?
the brand experience is built on values and purpose
having strong brand values, purpose, and promise is a prerequisite for creating any successful brand experience. if you're not clear on why your brand exists, the human need you're meeting, and who your consumers are, you'll find it impossible to architect your values into the experience you create for your consumers.
with

67% of consumers saying that their standard for good experiences is higher than it's ever been, it's no longer enough to deliver a hassle-free transaction. brand marketers now need to use the brand experience to

engage consumers intellectually and emotionally

.
in the same way a building is more than bricks and space, a brand is more than a style guide and assets. it's how someone enters it and engages with it. it's the behavior it creates and how it makes a person feel. and if that feeling resonates, your business benefits. a customer who feels connected to your brand is 50% more valuable than a customer who's simply satisfied with your product.
"a brand should be an experience that manifests itself," says cm founding partner Paul McDowall.
yours should leave your key audience feeling like your brand values the same things they do.

---
the impact of a 360º brand experience
if there's any industry where the stakes for brand experience success are the highest, it's hospitality.
Skift said it best: "in an age when everything is 'local' and 'authentic,' and there are literally hundreds of brands—soft, not-soft, and otherwise—for every different kind of 'lifestyle' out there...it all boils down to experience."
to see the benefits your brand can reap from a powerful 360º experience, just look to the hospitality brands who are bringing their values to life in every interaction with their customers.
take Snooze, a national restaurant on the rise that's built a cult following on the values of community, transparency, and sustainability. their dishes and cocktails are made with Snooze-approved ingredients—sustainably sourced and often local—and guests can learn where their food is coming from right on Snooze's website.
the guest experience, from the playlist to the decor to the way staff interact with guests, is architected to provide a signature sense of community. each restaurant is different, but the guiding values remain the same. by defining their purpose and amplifying it across the entire brand experience, Snooze has cultivated a loyal following that will often wait an hour or more for a table—not just for pancakes, but to have the Snooze experience.
---
check out our recent rebrand for Snooze here.
---
knowing when to adapt
for a brand like Snooze, every time a customer sits at a table, looks at the menu on their website, or sees a Snooze photo in their Instagram feed is a living facet of the brand experience. not everything can be under a brand marketer's thumb, so it's important to understand what parts of the experience are non-negotiable and when to be flexible.
your brand's values should be unwavering. they define who you are as a brand along with your values, visual, behavioral, and verbal assets. these should be set in stone to provide a cohesive experience.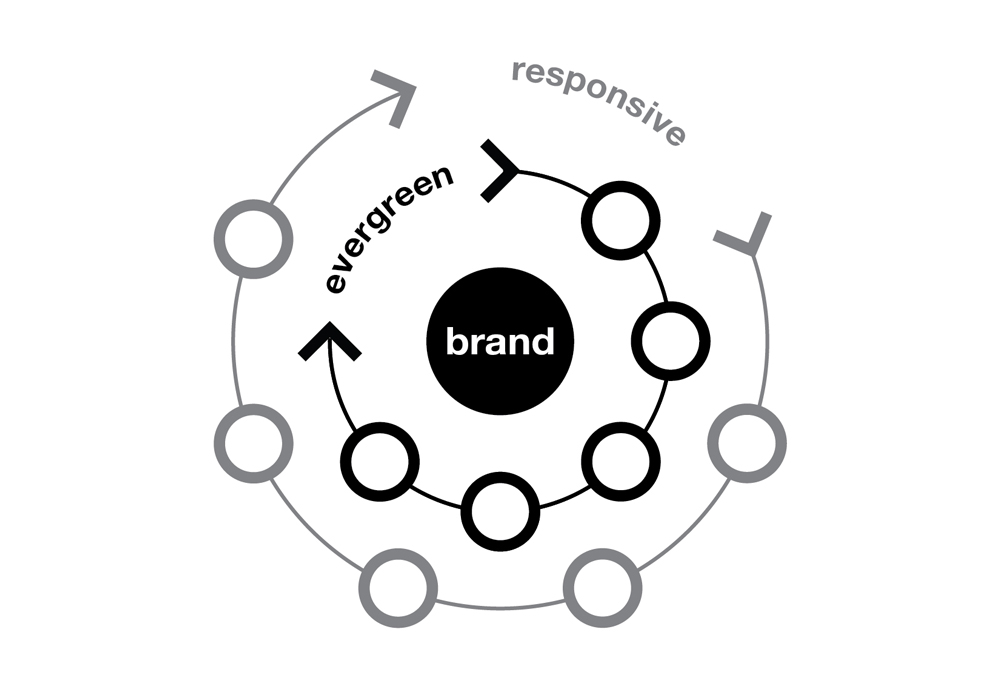 beyond these, consider everything fluid. from your tagline to your campaign ideas, your brand can, and should, flex based on what resonates with consumers. at clarkmcdowall, we call this responsive branding, and it's crucial in an age where brands are expected to react at the speed of light.
"as marketers, we make assumptions, but they're not always right," says Paul. "spending time with your key consumer and asking questions to understand how they feel throughout the brand experience can offer invaluable guidance on how to adapt. don't veer away from your values, but make smart pivots."
it's easier to enact responsive branding in terms of social media and other digital presences. if a piece of language doesn't strike, marketers can quickly flex, respond, and try something new. but these shifts also need to be considered in longer-term investments like how your product shows up on a shelf, or the physical spaces in which you host guests.
the larger the investment, the harder it gets. be bold and make choices that aren't necessarily big, but smart—and all based on understanding your consumer.